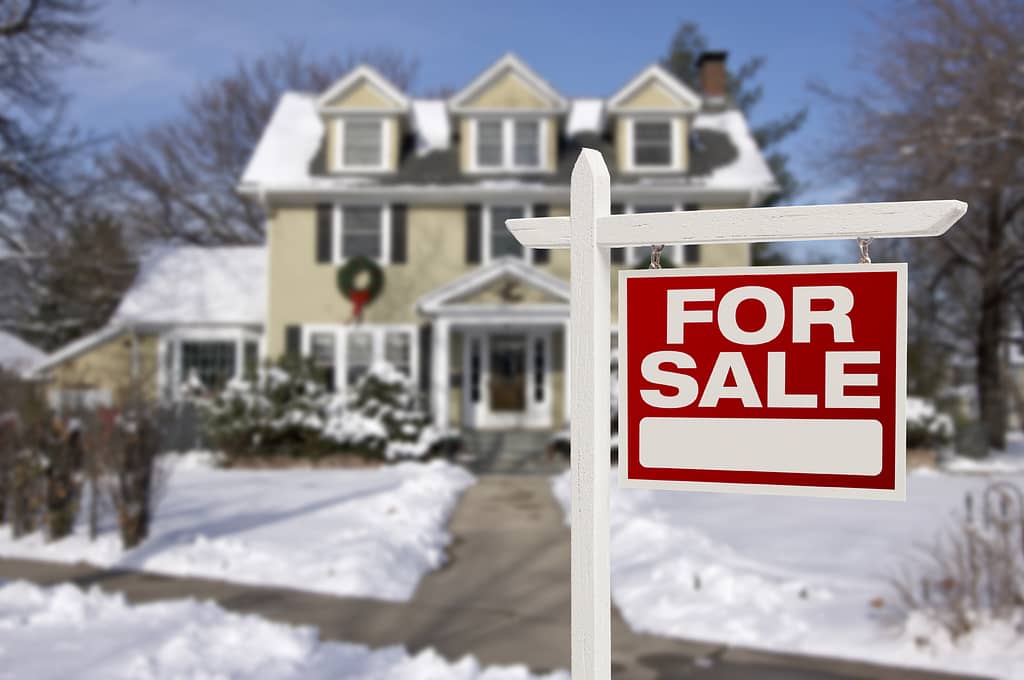 You're putting that house on the market now? It'll never sell! Nobody buys a house in winter!
Conventional wisdom-and the thinking of many real estate agents-says winter is the worst time for selling a home.
But you've worked in the industry long enough to know that homes do sell in the winter!
Now, if only you could get your clients onboard.
You know the ones we're talking about!
The homeowner who worked all summer on improvement. The seller whose last child moved out and no longer wants the roomy home with a basement. The couple who just found out they're expecting child #3.
Any of these clients could easily sell during the winter but may be hesitant because they've heard the same misconceptions you've heard.
We've put together a listing of reasons why selling a house in winter is a great idea. Share it with your clients and see how many new listings you get!
1. Supply and Demand
No matter what experts say most sellers still believe spring and summer are the prime listing months if you want a successful home sale.
While it's true that spring and summer are traditionally busier because there are more buyers shopping, as a seller, you're just a little fish in a big pond. Your home may get overlooked especially if it's similar to several other homes on the market.
Listing a house in winter usually means fewer comparable homes for sale. Less competition means an increase in demand for your home. An increase in demand almost guarantees a buyer will look at your home.
Experts at the National Association of Realtors report that for the past three winters, existing home sales during November and December increased by an average of 4.5%. 
The data proves buyers don't disappear because the weather changes from warm to cool.
2. No Holiday Break for the Internet
It's the digital age and most buyers begin home shopping online. The internet doesn't shut down because the roads are icy or a winter storm warning is in effect.
The internet has played a major role in the way buying and selling real estate has evolved over the last several years. It's likely more buyers view homes online before ever seeing them from the street. 
Take advantage of the internet and make sure your online listings show off the home's selling points. Learn the best ways of maximizing the home's appeal to buyers even if the weather outside is frightful.
3. Company Relocations
The first quarter is often when corporations relocate employees. For many buyers that means they start shopping in late fall and early winter.
These are serious buyers, not window shoppers. Most people who transfer to new locations prefer their new home be ready for move-in when they relocate. No one wants to stay in a hotel for months while home shopping.
Combine the advantage of lower inventory in winter and corporate relocation packages, and you have a recipe for a successful home sale.
4. The Cool Weather Advantage
Cooler weather offers a more pleasant buying experience, especially if you live in a climate where summers are extremely hot. Many buyers don't like shopping for homes during the summer. Working up a sweat driving to and walking around multiple properties isn't enjoyable.
The advantage of cooler weather lets buyers get out and look around the neighborhood and get a good feel for the homes they're viewing. Viewing a house in winter gives buyers a different perspective they won't see during the warmer months.
Real estate agents may even be able to work in a few more showings before buyers get tired or bored.
5. Real Estate Agents Work Harder
Low activity during the colder months equals low sales volume for real estate agents. Since agents don't make money until the transaction closes, they may just try harder to negotiate sales.
For those people selling a house in winter, this means undivided attention from the realtor. 
Realtors work hard year-round but lean months are an extra incentive.
6. Quicker Transactions
While the industry certainly isn't dead during the winter months, things do slow down in many areas of the country.
Fewer real estate transactions mean fewer loans for mortgage lenders to process. Title companies have fewer closings. Home inspectors aren't as busy.
Winter closings mean your loan and other closing details get top attention and get it sooner since you're not in line with hundreds of other customers.
For both buyer and seller, this could lead to quicker closings!
7. Show off Cold Weather Features
If the home you're selling has a fireplace or an updated furnace, winter is the perfect time for showing those features off.
Buyers will be impressed when the new furnace is fired up and humming along without strange noises. The logs burning in the fireplace will help a buyer imagine what it will be like when they sit in front of the fire.
If you live in an area where snow is common, the smaller driveway will be appealing since it requires less shoveling.
Take advantage of cold weather and make sure any snow or ice is cleared from driveways and sidewalk. Put a 2-hour Duraflame log in the fireplace. Leave a plate of freshly baked cookies out on the counter.
Cold weather means your home can look and feel cozy for your buyers.
8. The Neighborhood Looks Inviting
During the winter holiday months, many residents decorate the outside of their homes with festive lights and decorations. Many communities join in and adorn light poles and storefronts with holiday lights and evergreen wreaths and garlands.
Winter home buyers see the neighborhood as a welcoming place that appeals to their emotions. Holiday lights can turn an otherwise cold and drab neighborhood into a completely different place.
Remember, home buying (and selling) is emotional. Don't miss out on opportunities that target buyer's emotions.
If you're selling your home in winter, add an evergreen wreath on the front door. Use white lights and cover bushes or trees for an elegant look. Anything you can do that helps a buyer envision themselves spending their next holiday in your home will help sell your home.
9. Conventional Wisdom Isn't Always Right
Conventional wisdom-generally accepted theories or beliefs- aren't always correct.
Conventional wisdom is still the sentiment many sellers follow when thinking about selling a home in winter. Be bold and buck conventional wisdom. You may find profitable opportunities you might not find during the crazy days of traditional real estate selling months.
When you're sitting at the closing table in January or February and accepting your check, you'll be glad you didn't pay attention to old-fashioned thinking.
Ready to Sell a House in Winter?
If you're convinced selling a house in winter is an opportunity you can't pass up, we're here to help!
Real estate is still one of the most lucrative opportunities for both buyers and sellers. Broker Breakup can help you figure out the tricks of the trade.
Contact us today and watch a whole new world of buying and selling open up for you!